Copic Spraying Kits
Airbrushing Techniques
Once the airbrush system is working properly, you can refine your techniques. Always work over scratch paper to protect the surface from overspray. It's very easy to accidentally spray your table, surface, or other objects nearby. Be sure to aim straight down with the air grip, as the metal nozzle tends to place air in front of where it seems like it would go.
The first technique to master is a smooth, even background, made by using the chisel nib on either a Sketch or Classic marker. For a nice even spray, try the following:
Use slow sweeping hand motions when spraying side-to-side. Avoid going back and forth partway across the area or moving your hands in circles, this will make the surface blotchy. Spraying top to bottom doesn't feel as natural for some people, so it can be harder to be consistent. Work slowly from a middle distance away from the surface. It is easier to see where the spray is going, and working slowly and steadily is easier on the marker. The trigger also does not have to be pushed down all the way to get a nice, smooth spray.

Start light then add more layers to darken. It is always possible to make a color darker, but not as easy to make it lighter.

When stopping your spray flow, spray past the area you are trying to color so that it doesn't pool on your piece.

Make a test spray of each color before trying to create a smooth background. This helps to figure out if the color is spraying consistently or if it is too low on ink to. Remember that most colors will look different when airbrushed than they do colored directly on paper and light colors may not show up very well at all.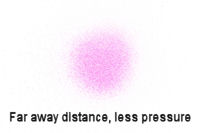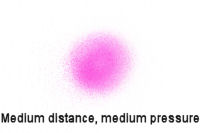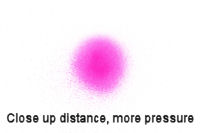 Simply click the blue hyperlinks below to view each item individually...